Victory Medal
Jump to navigation
Jump to search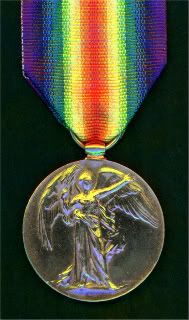 Victory Medal
Instituted in 1919, approximately 6,000,000 of these medals were produced - an indicator of the colossal amount of British Empire & Commonwealth personnel involved in the war! It was issued to all those were entitled the 1914 or 1914-15 Stars and virtually everyone who received the British War Medal.
In common with all the Great War medals, it was forwarded to the next-of-kin of those who perished. It was not issued singly. Eligibility was mobilisation in any of the services between the outbreak of war and the armistice in 1918. Often referred to as the 'Allied Victory Medal', it can be encountered in many guises, but the basic design & ribbon is the same.
The inscription on the reverse of the South African issue is bi-lingual and is both in English & Dutch. The Brazilian issue is the rarest of the multi-national issues, those being to the following countries: South Africa, USA, Cuba, Japan, Siam (Thailand), Romania, Czechoslovakia, Greece, France, Belgium & Italy.