Tom Carew
Jump to navigation
Jump to search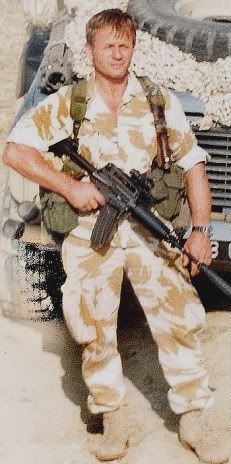 Philip Sessarego
Tom Carew: former soldier, adventurer and best-selling author of Jihad!. Carew was the nom de plume of one Philip Sessarego – one time Gunner and SAS selection failure.
After a couple of year's service in the Royal Artillery, Sessarego applied for selection with 22 SAS. A fit man, he injured his knee during the last leg of 'Endurance' and timed out. Nevertheless, he had impressed the DS sufficiently to be invited to join the 22 SAS 'Demonstration troop' (widely known within the regiment as 'Goon Troop'). This was a kind of holding troop for selection near-misses where they could carry on with continuation training but be re-coursed back to do the specific tests they had failed. Unfortunately for Sessarego, his knee injury was sufficiently bad that he couldn't rejoin his course and he was sent to work as a GD man at the SAS training area.
Sessarego spent several months as gofer for long serving SAS NCO Bert Perkins but whilst this continued, he was becoming increasingly controversial within Training Wing. Part of the reason for this was that Sessarego was more than a little vocal, but the main reason was that Sessarego's mother, who had moved to Hereford to live near her brother, was having an affair with the Training Wing Sergeant Major. By his own account, Sessarego became a pawn in a mini-power struggle within 22 SAS Training Wing. Having been told that he would have to undertake the whole selection course again, rather than simply the Endurance March which was what he had been told when invited to join Goon Troop, Sessarego opted to leave the 22 SAS and the army. Claims that he attempted to join 22 SAS via R Squadron are false.
During the next few years. Sessarego struggled to find his feet and, amongst other things, is believed to have served a brief prison sentence for illegal firearms possession. But it is beyond doubt that he was picked up by former SAS members to work on the informal mercenary circuit that was then developing. His particular mentor was 'Darkie' Davidson, an SAS SSgt of Anglo-Burmese origin who had also had a rough time from the SAS establishment.
Sessarego was recruited to work on a 'mercenary' operation in Sri Lanka in 1979, training the Sri Lankan army in COIN techniques and from there was picked up by an ex 22 SAS officer to take part in a coup attempt in the Maldives in early 1980. This turned out to be the stuff of farce: weaponry for the team turned out to consist of a couple of .22 target pistols and some smoke grenades and flares; and the attempt collapsed before it could be launched.
Following this, Sessarego was recruited by the DIA to go to Afghanistan to collect Soviet weapons and to train the Mujahideen. Much as he has been smeared since then, his account of this is essentially accurate if you take away his claim that he had actually been a member of the SAS. In reality, he suppressed many of the background details for security reasons, and others were removed at the insistence of the MOD when his manuscript was vetted. Following Afghanistan, he also took part in conflicts in the Balkans, Latin America and southern Africa – often (and ironically) fighting alongside ex-members of the SAS, to whom he was jokingly known as 'SASS' Sessarego. He was apparently a natural and capable soldier.
In 1991 he bizarrely faked his own death, with local newspapers in Hereford claiming he'd been killed in a bomb explosion in Croatia. Although he liked to pretend that this was for some sort of bogus 'national security' reason, much more likely is that he was trying to avoid maintenance payments to his ex-wife.
Having observed the success of writers like Andy McNab, in 1999 Sessarego got to work at the typewriter and Jihad! was born. The story described how, in the summer of 1980, he had been sent on a covert operation to train the Afghan Mujahideen, who at that time were fighting the Soviets in Afghanistan. It went on to detail several trips deep inside Afghanistan to seize Soviet weapons and equipment and the training of rebels on Pakistan's North-West Frontier.
Using the name Philip Stevenson, he sent a manuscript to the literary agent, Andrew Lownie in London and in 2000 – after being cleared by the MoD – Jihad! was published to modest success. Extracts were serialised in The Sunday Times and a few other newspapers and magazines, and the book itself sold moderately well, being picked up for translation and serialisation in various European languages, including Dutch, Polish and German; and a further English-language edition in Australia. Sales were healthy and the book had earned out its modest advance by the time the paperback edition was published on 10th September 2001. The funniest thing is he considered himself as a cross between James Bond and Andy McNab.
Twenty-four hours later, nineteen Islamic lunatics decided that New York (and a couple of other choice locations) needed something of a facelift and this is where Sessarego was forced to an unsought decision point. Mr 'Carew' became an overnight expert on Islamic terrorism, book sales went ballistic and he was in great demand by the media for his expertise and his take on just what the hell was going on?
There was one slight problem: whilst Jihad! was a largely accurate account of Sessarego's activities in and around Afghanistan, a lot of what Sessarego had claimed about his own background - and specifically his membership of the SAS - was completely untrue..
Repeated appearances on TV and repeated references to Carew's ex-SAS background were now seriously pissing off a few individuals who had been trying to cash in on their genuine SAS experience: they were most unhappy that a parvenu selection failure like Sessarego appeared to be raking in the cash. Ex SAS Warrant Officer Ken Connor, who had achieved only modest success with his own memoirs of SAS service - "Ghost Force" – made the rounds of defence journalists, denouncing Sessarego as a fraud, and his story was eventually picked up by George Eykyn, of BBC2 Newsnight.
After one failed attempt to trap him, Eykyn eventually lured Sessarego to BBC TV Centre on the pretext of an interview about forces in Afghanistan. 'Carew' stupidly denied being Sessarego and took a swing at a cameraman before making off.
Ironically Sessarego did not need to exaggerate his association with the SAS. The book had become an international best-seller in its own right, as it was the first realistic mainstream account of what it was like to live and fight alongside the Mujahideen. The whole SAS 'thing' was totally unnecessary - being a former British soldier and mercenary would've been more than enough to guarantee sales. If he hadn't lied about his SAS membership (or lack of it), Sessarego would probably be living in a villa with a pool in Marbella now, and wiping his arse on moisturiser-impregnated 100 Euro notes.
Sessarego's career was over and he went off the radar, though it was rumoured that he was in Belgium dealing in military equipment and running survival courses. What is known is that he moved to Antwerp and became involved with the seedier side of life in the land of chocolate and paedophiles, working in protection rackets for nightclubs, massage parlours and whore houses.
In January 2009, Sessarego's badly decomposed body was found in a locked garage in an Antwerp suburb after he had succumbed to carbon monoxide poisoning. He had fallen on hard times and was living there, cooking on a 'Camping Gaz' stove and keeping fit in case the call came . Even in death, the man who 'made enemies easily' left a question mark hanging over a story both intriguing and pathetic.
External Links