Category:TA Royal Artillery
Jump to navigation
Jump to search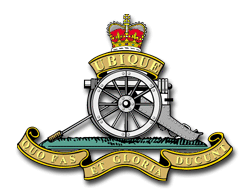 The TA Royal Artillery
The Territorial elements of the Royal Regiment exist to demonstrate that you don't have to be available daytimes Monday to Friday to drop ordnance where it's not wanted.
Lots of units, armed with everything from Light Gun to UAVs.
TA Royal Artillery Regiments
Click on unit links for ORBAT and locations:
Oh and undoubtedly the jewel in the crown - the Honourable Artillery Company currently feature in the RA ORBAT, not just because they can be relied upon to produce a Pimm's bar in the most unlikely of places, not even because they are considerably richer than everyone else in the TA put together... but most likely because someone somewhere assumed that the "Artillery" part of their title had something to do with cannons.
Specialist Units
Administered by CVHQ RA based at Woolwich are the following TA RA Specialist Units:
If you are interested in being posted to these units you should call 02087 813421 to discuss your eligibility.
Trades
Gunner
Phase 2 Training
TA RA Phase 2 training is under construction.
Promotion
TA RA Promotion is under contruction.
Pages in category "TA Royal Artillery"
The following 16 pages are in this category, out of 16 total.