The Spotlight Club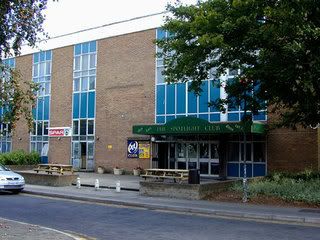 The Spotty
The fabled NAAFI watering hole on-base at RAF Brize Norton. In its 1980s heyday, the bop was by far the best in the RAF - if not the armed forces.
The building itself contained a shop, the ubiquitous vending area, two bars, snooker rooms and a fully kitted out nightclub. Oh yeah! For a teenage sprog on his first outing in to the big wide world it was a revelation.
Crumpet abounded and the cream of Britain's military might had the pick of the crop - with many a local maiden getting the good news in the conveniently located accommodation blocks to the rear.
The times were good and the scraps between the various on-base factions were legendary - especially when the visiting courses were added to the equation.
The 'Spotty' was the first port of call for a generation of freshly winged up Crows from PTS, their newly-adorned Para Smocks cutting a dash in the inevitable queue for the phones.
The Spotlight Club is now a shadow of its former self, a victim of the changing times and attitudes of today's generation. Gone are the heady nights of taking to the illuminated dance floor in a Charlie-induced trance - dessies sticking to the beer-soaked floor [No drinks on the dance floor please] - but the memories live on.
As the song went:
I ain't goin' down to the Spotlight Club no more,
No I ain't goin' down to the Spotlight Club no more.
The girls they call you honey, when they're spendin' all yer money,
I always get a whore when I'm dancin' on the floor,
No I ain't goin' down to the Spotlight Club no more.
Rooster, 1987