Ryan Nurse
Jump to navigation
Jump to search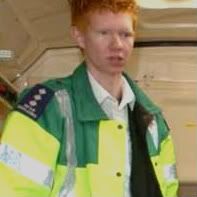 Ryan Nurse
Ryan Nurse (yes that is his name) is a scary gwar pretend paramedic who turned up for public events with his a second-hand ambulance - complete with medical equipment - and walted it up.
He worked as a car park attendant but turned up in a Paramedic uniform at the International Yachting Regatta. The wheels came off the little scheme when his boss got suspicious and informed the police. Nurse was found the following day, on site without permission, and giving advice to a pregnant woman... like yer do!
When the police raided his home they found medical gear and prescription-only medicines. He was given a six month jail sentence and suspended for two years. Poor ol' Ryan could have easily avoided all the embarrassment had he bothered to read Walting With Confidence which gives excellent advice about avoiding the pitfalls of medicine.