Royal Logistic Corps
Jump to navigation
Jump to search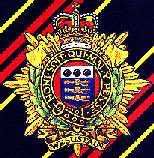 Royal Logistic Corps
Least said, and, probably, soonest mended. "By the light of the silvery moon, they work their magic to bring the rest of the Army everything it needs to function." Or at least that's what the recruiting blurb says. In reality, most of them are guys who failed the competance test to be a truck driver, but didn't really fancy any of that rough fighting stuff.
Corps Mottos
We Piss Stain' Nothing Moves Till We Do'
History
Details of the RLC today can be found here.
Formed in 1993 from an amalgamation of the Royal Corps of Transport, the Royal Army Ordnance Corps, the Army Catering Corps, The Royal Engineers Postal Courier Service, oh aye, and the Royal Pioneer Corps. The RLC (Really Large Corps) has taken on the task of Supply and Combat Service Support for the rest of the British Army. Aren't we lucky boys and girls? But some of us know better! The home of those who would rather look up than down for their menu and think nothing of plastic tablecloths and plastic ketchup bottles on them...
Our forming Corps nicknames included:
Real Cool Truckers
Rice Crispie Tasters (cheers Mr Kellogg)
Rickshaws, Cabs & Taxis (shades of the far east here methinks)
Really Large Corps
Real Lesbian Corps
Royal Airborne Overseas Commandos (those foolish supply rascals!)
Recruit Any Old Cnut (much better)
Rag And Oil Company
Always Cooking Crap (Which is not true really...)
Almost Catering Certified (again made it up, but it has a certain ring!).
Andy Capp's Commandos.
Aldershot Concrete Company
Gravediggers,
Cubes (metric form),
Postal Courier Service (formerly part of The Royal Engineers):
Any Suggestions? How's about Patties (as in Postman Pat)?
Battle Honours
Peninsula
Taku Forts
Lucknow
Pekin.
Holders of The Victoria Cross (Forming Corps)
The following members of units which combined to form the RLC have been awarded the Victoria Cross
Farrier M Murphy VC 15 April 1858 Military Train
Pte S Morley VC 15 April 1858 Military Train
AC J L Dalton VC 22 January 1879 C&T Dept
Pte R G Masters VC 9 April 1918 ASC
RLC Major Units
Royal Logistic Corps Units - Territorial Army
External links