Regimental Tie
Jump to navigation
Jump to search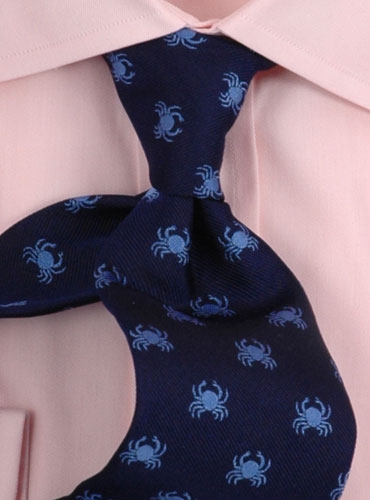 A Royal Air Force regimental tie

Neckwear of choice for the discerning chap about town - especially in November. Regimental ties were a logical extension of school ties, i.e. of the old variety and were/are an ideal means of recognising individuals from either one's own regiment or corps. Once the preserve of officers, the aftermath of the Great War and Round 2 saw more widespread usage by lesser mortals. National Service also played its part in popularising the tie.
Available in a bewildering array of colour combinations, there are hundreds of ties representing squadrons, batteries, companies and battalions of virtually every outfit that's existed since the dawn of time. But be warned, wear a tie you're not entitled to at your peril. Like the Gongpolizei, there are hardened tie spotters that can ID your neckwear at one hundred paces, so you'd better be legit.
The regimental tie is typically worn with either lounge suit or blazer. It is not worn in Number 2 Dress, so Idi Amin and walts take note. By far the smartest wearers are Gurkhas, as everyone else seems to look like a bag of shit in slacks and blazer - or maybe that's just the associated alcohol intake that invariably accompanies any occasioning of such attire.
Gentlemen prefer silk, whilst the more sartorially challenged opt for the cheaper (and more easy-laundered) polyester option. Real men choose the ARRSE Tie, and quite right too!
Myths & Traditions
Q: Why do Gunners wear the Gunner tie on a Friday?
A: Royal Artillery Dress Regulations - paragraph 16: Serving and retired Gunners are encouraged to wear the Regimental Tie on Fridays.
Any day of the week is OK, it's just that Friday is THE day to wear one. Another tradition is being made to wear a regimental tie at dinner once one had gone through a 'lady drought' of more that a specified period, the tie only to be changed once jollies achieved.
We used to play that game in Germany in the early 2000s - if I remember correctly:
0 - 2 weeks - own choice of tie
2 - 4 weeks - Battery tie
4 - 8 weeks - Regimental tie
8 - 16 weeks - Gunner tie
16 - 26 weeks - Black tie
26 weeks - 1 year - Mess kit
1 year onwards - wetsuit
We also had a jacket that the longest 'abstainer' had to wear - fines when worn with Mess kit were imposed. Even the female officers took part by wearing the 'female equivalent' - well some of them did. Oh and whores didn't count in the Game (which was very responsible).
Infamy, infamy. They've all got it in for me!
There are some who eschew the tie - whilst at the same time adorning themselves with just about every other regimental accoutrement known to mankind. One such individual was Roger Day. Ho ho.
Where to get them?
Regimental and corps ties are available from many sources. Any respectable high street gentleman's outfitters will stock the common patterns. The more obscure will prove harder to find. Scan the small ads in Soldier Magazine for guaranteed results. Battery and Company ties are available from Man at PRI.