Paul Bruce
Jump to navigation
Jump to search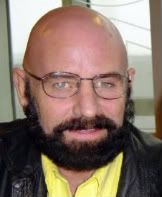 Paul Bruce
Who He?
Paul Bruce came to prominence in 1995 when his book The Nemesis File was published. The book was hot on the heels of Bravo Two Zero and leapt shamelessly on the (then) 'in vogue' SAS memoir bandwagon. It detailed Bruce's time in the regiment during the heady 1970s when he was part of an elite execution squad formed to rub out those troublesome IRA types, and contained pictures of remote leafy glades, 'unmarked graves' and (of course) his SAS kit: medals, beret, Stable Belt and flared trousers.
The Nemesis File
Paul Bruce was a tough, idealistic young trooper in the SAS when he was dispatched to Northern Ireland. His squad's top-secret mission, code sign "Nemesis" - to execute unarmed IRA suspects in cold blood. Bruce and his squad shot down one terrified victim after another, leaving their bodies buried in unmarked woodland graves. Slowly they grew bitter at the sordidness of their assignment, yet worse was to follow with new orders from British military leaders, to ferment sectarian violence by shooting down young men on the streets of Roman Catholic areas. This is Bruce's story.
So went the publisher's blurb. Needless to say, the revelations therein created a veritable shit storm: government-sanctioned murder? It would be naïve in the extreme to think that the grown ups would be happy with such damning claims - despite a few obvious inaccuracies regarding weaponry (which is what one would expect from a professional killer). Clearly something was amiss, as the book was reading more like a two bob Clunge actioner rather than a McNab literary masterpiece.
You're Nicked You Slag
Quote:
The Royal Ulster Constabulary has for some time been making enquiries into alleged serious criminal offences, primarily as a result of allegations made in the book "The Nemisis File: the true story of an Execution Squad" which is published by Blake Publishing.
As part of our continuing enquiries, and having regard to the seriousness of the allegations made in the book, the book's author was arrested by RUC officers under the Prevention of Terrorism Act and was interviewed at Castlereagh Police Station, Belfast.
Enquiries into the matter have now been completed and we are satisfied that the allegations contained in the book are not true in fact or substance and this includes an assertion that the author was at some time a member of the Special Air Services Regiment. The RUC is satisfied that the author has not been concerned, either directly or indirectly, in the commission of any serious criminal offence whilst serving in the Province during the period February - June 1972 when he served as a Vehicle Mechanic with the Royal Electrical and Mechanical Engineers. The RUC considers the book "The Nemesis File: the true story of an Execution Squad" as a work of fiction and accordingly the investigation is now closed.
Verdict
Oh dear.