Hooped
Jump to navigation
Jump to search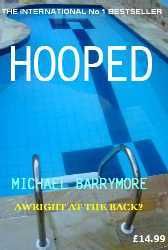 Also abbr. Hanging Out of My Hoop
Synopsis
Controversial 2006 semi-novelography ghost written by Cyril Clunge, this is by far the author's most explicit work to date. The story starts off innocuously enough with entertainer Michael Barrymore innocently inviting some of his audience back to his residence for an impromptu pool party following the culmination of a successful variety tour.
Unbeknownst to the hapless celebrity, some of the audience were off duty soldiers from a notorious unit. Thus ensued a hedonistic alcohol-fuelled orgy of blood, shit and chlorine the likes of which the Home Counties had never seen.
Excerpt
Critique
Murder, intrigue and deceit. It's all in here. Clunge pulls no punches, names names and lifts the lid on the sordid underbelly of 'the scene' at the deep end. This is the book that describes in graphic detail what really happened on that night of infamy - when both sphincters and careers were wrecked beyond all recognition.
Testimonials
Disturbing - Peter Tatchell
Gripping - Variety Time
Way to go Mortars! - Navy News
I'll see you in Courts! - Michael Barrymore
I'm never gonna dance again - George Michael