Hitler
Jump to navigation
Jump to search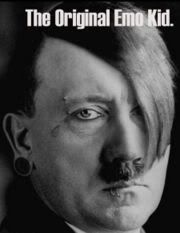 Crawling in mein skin...
Whether you like him or not, you have to admit that Hitler killed a lot of Jews, despite being a Spurs fan. During his dictatorial reign of Nazi Germany he exterminated somewhere around 5-6 million Jews, and some 7-8 million others, in the Holocaust. He also invented the Volkswagen, and was the first modern person to almost pwn the entire world with militaristic bitch-slapping, in the form of air raids and Blitzkrieg.
On the other hand, Hitler was also a sensitive man. When he was younger, Hitler went to art school. He was a vegetarian, a non-smoker, and also had a moustache. If Hitler were alive today, he'd listen to The Cure, The Smiths, and Depeche Mode. On the downside, he dropped out of art school, slept until three in the afternoon every day, and threw temper tantrums if you tried to wake him up. He was pretty much a big angry retard.
A mad German Dictator and one time German Army Corporal who tried to seize power in Germany during the social and economic turmoil in the 1920s, failed miserably and ended up in Landsberg Prison for just long enough to pen a witty little homily, the best-selling, Booker Prize nominated Mein Kampf.
Succeeded in seizing power in 1933. Unfortunately.
He probably wouldn't have such a bad name had he not annexed parts of Czechoslovakia, invaded Poland, Holland, Belgium, France, Eastern Europe and Russia to name but a few. Things weren't improved by his plans to exterminate anyone who didn't fit in to his view of the ideal, managing to dispose of 6 million Jews, Gypsies, Homosexuals, mentally handicapped and political opponents before the end of the Second World War.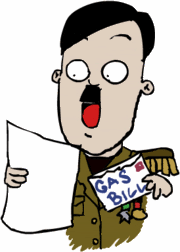 Thank Gott in Himmel for Direct Debit!
Did manage to do a few things right before taking his own life in his bunker in Berlin before the Russians were able to capture him.
Fixed the German economy ... although not sure a war footing counts as 'fixing'
Gave everyone in Germany their own vehicle ... usually a mark of vehicle prefixed with the word Panzer.
Created a war machine capable of crushing the world. Bit like current day Spams but without the desire to be loved while doing it.
Seriously reduced unemployment by cleverly not counting women, jews etc in unemployment figures, then got anyone fit to live in a tent and build Autobahns.
Really did only have one ball; also known as Adolf Hitler (him that is, not his ball).
Interesting Fact
Not a lot of people know this, but Hitler actually wrote the music for 'Fresh Prince of Bel Air' many years before this vile excresence was unleashed on an unsuspecting public.
IN BRAUNAU IN AUSTRIA BORN AND RAISED
IN VIENNA WAS WHERE I SPENT MOST OF MY DAYS
CHILLIN OUT, MAXING, RELAXING ALL COOL
AND THINKING OF WAYS TO ANNIHILATE THE JEWS
WHEN A COUPLE OF KIKES
WHO WERE UP TO NO GOOD
STARTED RAISING LOANS IN MY NEIGHBOURHOOD
I SET UP ONE LITTLE CAMP AND THE RUSSIANS GOT SCARED
THEY SAID 'IF YOU INVADE POLAND CAN WE AT LEAST SHARE?'
I WHISTLED FOR MY CAR AND WHEN IT CAME NEAR
THE LICENSE PLATE SAID "FUHRER" AND EVA BRAUN WAS IN THE REAR
IN GERMANY FUCKING YOUR OWN COUSIN WAS RARE
BUT I THOUGHT "NAH FORGET IT," YO HOME TO BERLIN!
I CAUGHT MILLIONS OF JEWS, ABOUT 7 OR 8
AND I YELLED TO HYMIES "YO HOLMES, SMELL YA LATER"
I SHIPPED EM TO CAMPS, WHEN THEY WERE FINALLY THERE,
I TOOK EM ALL OUT, WITH SOME GAS IN THE AIR.
No. Srsly.