General Service Medal 1962
Jump to navigation
Jump to search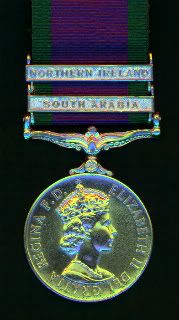 GSM 1962-2007
Medal
Silver and circular in shape. The obverse of the medal shows the crowned effigy of Queen Elizabeth II, while the reverse bears the image of an oak wreath surrounding the words 'For Campaign Service'.
Clasp
13 different Clasps have been awarded with the GSM 1962. Award of Clasps to the GSM are not denoted by the wearing of an emblem when the ribbon alone is worn.
Ribbon
A wide central purple stripe flanked by narrow green stripes.
Qualifying criteria
Awarded for 30 days service in various theatres of operation.
Full details are laid out in DCI JS 22/92.
About the GSM 1962
Until 1962, separate General Service Medals had been issued to Naval personnel (the Naval GSM 1915) and Army and RAF personnel (the GSM 1918). The GSM 1962 was instituted in 1962 to replace these medals and was awarded to personnel of all services for campaigns and operations that fell short of full-scale war.
Since its inception, it has been awarded for 13 such campaigns:
Radfan
South Arabia
Malay Peninsula
South Vietnam
Dhofar
Mine Clearance Gulf of Suez
Gulf
N Iraq & S Turkey
Air Operations Iraq
Award of any new Clasps to the GSM was discontinued on 31 December 1999 on the introduction of the new Operational Service Medal (OSM) on 1 January 2000. The General Service Medal 1962 ceased to be awarded in 2007 upon the ending of Operation BANNER.