Gateway House
Jump to navigation
Jump to search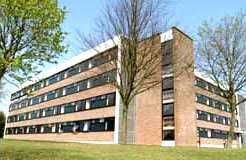 For an unforgettable stay
Gateway House: Crab Air's very own Raddisson. The Gateway is at RAF Brize Norton and is the last word in luxury transit accommodation - or rather was in 1970.
People who are going to fly from this airfield are provided with a room to (supposedly) enable them to sleep the night before their flight - if they don't want to have to get up really early and travel directly to the airfield on their day of departure.
So why not take a break? Enjoy the local hospitality and cuisine. Dine at Flank's famous Chinese eatery outside Gate 1 and dance the night away at the legendary Spotty before a restful night's chaos and a ridiculously early morning call for your flight.
There is a Tannoy system that makes sleep impossible as every flight that leaves the airfield is announced - if there is any chance that there will be passengers. If the Tannoy doesn't keep you awake the Fire Alarm will.
The RAF also (thoughtfully) puts on transport from the 'Hotel' to the terminal itself. [That's not thoughtful, that's just a ruse to get you into the clutches of the Movers quicker]