Flying Trousers
Jump to navigation
Jump to search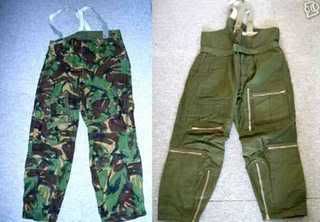 Trousers Aircrew Combat Temperate Mk2B
These braced DPM trousers have integral knee pads and a multitude of pockets - mostly in places readily accessible to people who spend their lives sitting down, yet too small to accomodate anything remotely useful. Lower leg zips enable the trousers to be donned over boots. Worn infrequently by Army aircrew, as the tailoring was, quite literally, pants.
NSN 8415-99-991-0194
Trousers Aircrew Cold Weather Mk3
Non-DPM over-trousers and component of the Suit Aircrew Cold Weather. Like the accompanying Mk3 jacket, these are meant to be worn in conjunction with the Mk14 suit in extreme cold weather and are manufactured by Beaufort - the survival equipment specialists. These are extremely well made and durable.
NSN 8415-99-130-1233