Flying Pig
Jump to navigation
Jump to search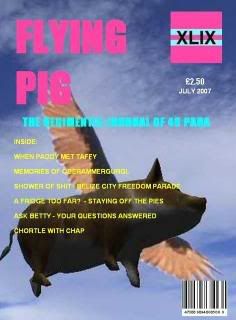 Legendary regimental journal of 49 Para. 'Pig' is a monthly magazine that's published monthly (oddly enough) by the Walton Press and is available by both subscription, through select outlets of Sainsbury's and by Big Issue vendors who've been lucky enough to find a copy. Packed full of hints, tips and features, 'Pig' makes for a cracking read and is worth the paltry £2.50 asking price.
What's inside:
Ask Betty - The rag's very own agony aunt.
How Ignorant Are You? - Spot the difference competition.
Chortle with Chap - Hilarious cartoon strip which will leave you with an embolism.
Top Bollox - Saucy readers' wives snaps to keep one entertained on cold, dark evenings.
Readers Letters - 'Why oh why...?' 'Where's my medals?' etc.
Down at the Squirrel - Rumours, views and controversy.
What's on? - Out & about in Walton.
What isn't:
Sports news.
Mong adverts for insurance and discount cars.
Government-sponsored spin.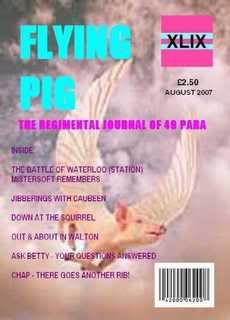 If you came here looking for the specialised version of the Humber AFV, then follow the Pig link.