Flying Jacket
Jump to navigation
Jump to search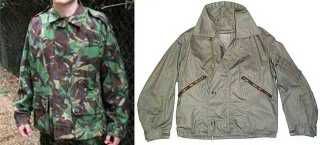 Flying jackets come in two distinct flavours - one distinctly more ally than the other.
Jacket Aircrew Combat Temperate Mk2A
Introduced in the mid-1970s, this smock was designed to be worn in conjunction with braced DPM cold weather aircrew over-trousers - worn over the olive green flying suit.
Of superior design and finish to any other smock since the '66 pattern jacket, this jacket features a springed or padded pen pocket, Velcro cuff and neck fastenings, lower bellows pockets with taped buttons, zipped slash-type chest pockets, two internal breast pockets and a integral hood stowed in a neck pocket. Earlier jackets were fully-lined, whereas the more recent issues are only half-lined. A very smart and desirable item of kit.
NSN 8415-99-130-0568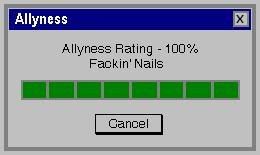 Jacket Aircrew Cold Weather Mk3
One half of the Suit Aircrew Cold Weather ensemble, these current issue aircrew issue jackets are manufactured from shower proof gabardine, lined with ventile fabric and interlined with insulating nylon mesh fabric. The design of the jacket is such that whilst providing a high degree of warmth it is not restrictive and thus cannot impede freedom of movement.
Closure of the jacket is by means of a full-length zip fastener which when closed is covered by a button over storm flap. A large collar fitted with a closure tab provides warmth and reduces heat loss from the neck aperture, a zip fastening compartment on the back of the collar contains the drawcord fastening hood.
The wrists have velcro fastening adjusters and a waist drawstring further improves the jacket's heat retention properties. An adjustable crotch strap is designed to provide additional protection for the lumber and seat areas in a survival situation. Other features include two large zip-fastening breast pockets, a cushioned 'non-FOD' sleeve pen pocket and a front-affixed D ring for the attachment of an oxygen feed pipe clip or (usually) ID tag.
NSN 8415-99-130-1231