Fer de Lance
Jump to navigation
Jump to search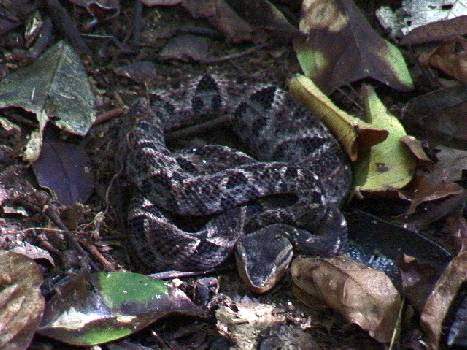 Run away... very slowly!
A nasty, poisonous (haemotoxic) snake which inhabits the jungles of Central America, occasionally chowing down on passing British soldiers undergoing jungle training there. Think silent Rattlesnake and add several feet.
This snake is nails. It is fearless and will have a pop at anything that takes its fancy. One was found wrapped around a Four Tonner's axle after the beast took a pop at a tyre whilst being run over - or so an MT Driver told me.
The Fer de Lance - like other Pit Vipers - has the ability to look like anything but what it actually is, taking on the appearance of a tree branch or a piece of rotting wood. So get to learn what it looks like and stay the fuck away or it's a helicopter ride and a possible trip to Miami in a chartered Lear Jet when your blood vessels start to dissolve. Best avoided.