Exocet
Jump to navigation
Jump to search
Un poisson volant
Function
Sea Skimming anti ship missile
Weight
670 kilograms (1,500 lb)
Length
4.7 metres (15 ft 5 in)
Range
70–180 kilometres (43–110 mi/38–97 nmi)
Speed
1100km/h (700mph)
Wingspan
1.1 metres (3 ft 7 in)
Guidance
Inertial and active radar
Warhead
165 kilograms (360 lb)
Exocet (Flying Fish) is a French-designed and -built anti-shipping missile in service with many Western navies in the 1970s and -80s. Originally designed as a surface-to-surface missile (SSM) in the MM38 and later MM40 versions, it was the air-launched variant - AM39 - which first achieved success against a naval target:
AM39 on a Mirage 2000
First Kills
These engagements took place in May 1982 when, after much strenuous and secretive work by French and Argentine technicians, an Argentine Navy Super Etendard strike plane took off from the Argentine mainland to attack Britain's Royal Navy Task Force as it laid siege to the disputed islands.
The first attack sank the Royal Navy's HMS Sheffield on picket duty on 4 May. Although the warhead did not explode, the kinetic energy damage from the missiles impact left the ship vulnerable to fire that subsequently gutted the ship.
Subsequently the 15,000 tonne merchant ship Atlantic Conveyor, was struck by two Exocet anti-ship missiles, on 25 May.
An MM38 ship-to-ship Exocet damaged HMS Glamorgan on June 12 but failed to explode.
As you can imagine the political backlash from this on the French was substantial in that they directly aided a non-NATO country to mount an attack on a NATO member. Ever wonder why the UK got HUEMUNGUS rebates from the EU?
In The Gulf
The Iran-Iraq War produced a US Navy Exocet casualty in the form of the USS Stark. An Iraqi Mirage F-1 pilot, apparently targeting Iranian shipping in the Persian Gulf on 17 May 1987, mistook the Oliver Hazard Perry-class frigate for an Iranian merchant vessel, and put two Exocets into her: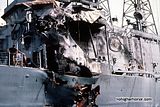 USS Stark Exocet Damage1
There were interesting comparisons with the Sheffield attack. The first missile failed to detonate, but the second did. Aluminium in the superstructure above the impact point, liquefied in the heat. The Stark survived because at least one fire main was kept operating. (The Sheffield's only fire main was destroyed by the impact, rendering damage control all but impossible.)