Cyril Clunge
Jump to navigation
Jump to search
Born - 29 February 1956
Place of Birth - Manchester
Occupation - Ex-Special Forces & Author
Influenced by - Catherine Cookson, Jilly Cooper
Influenced - Andy McNab, Chris Ryan
Category - Military, Action & Adventure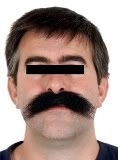 Cyril Clunge
Synopsis
Cyril Clunge is a prolific author of both military action novels and non-fiction works who received international acclaim for his bestselling work Alpha Two Zero - the true account of a disastrous balcony party at the residence of the Chief Executive of Scandinavian Airlines.
Contrary to popular belief, Clunge is not the real name of ex-SAS fellow author Andy McNab. Both authors have been applauded and lampooned for their work - and indeed their writing styles are uncannily similar. They are, however, two entirely different people... allegedly.
The Early Years
Born in the rain-soaked metropolis of Manchester, Clunge is the second son of Doris and Ernest Clunge of Travis St. His formative years were uninspiring and after a troubled childhood and a disastrous education, Clunge vainly attempted a life of thespianism before admitting failure following a cringe-inducing performance of the The Princess & the Pink Oboe. Clunge played the (non-speaking) part of the goatherd and was killed off in the first scene.
A self-convinced talent, Clunge attempted various work in the entertainment sector, though his finest hour was appearing in a Japanese beer commercial - albeit briefly. Like before, this was a non-speaking role and, oddly, also included goats. The fear of being typecast as a mute goatherd nearly drove the youngster over the edge.
A Service Life
Salvation beckoned within the ranks of the Royal Air Force and Clunge joined the service in the early 1970s, serving in far-flung shards of the former Empire that were both exotic and tinged with danger. It was the latter that gave Clunge a taste for action and adventure and Clunge joined the elite 49 Para after passing its rigorous selection course at Walton-on-the-Naze.
Clunge went on to fight in Britain's dirty conflicts: Cyprus, Belize, Falkirk - gaining valuable expertise and insight that would stand him in good stead in later life.
Clunge's Achilles heel was his love of the fairer sex. At the time, 49 Para were predominantly gay, and Clunge was thus considered both fair game and hot property on MQs. It was to be his undoing. Clunge was discovered hanging out of the back doors of the Badge's missus. What resulted was a barrel-scraping divorce case and an RTU. Disgraced, Clunge was awarded a DCM and forbidden to ever step foot in Walton ever again.
Several members of the regiment have vowed to slot the cnut if they ever set eyes on him, and for this reason Clunge wears a black rectangle whenever he appears outdoors - though he continues to utilise his real name.
Civvy Street
Clunge shot to fame on the back of his daring exploits with 49 Para with his seminal blockbuster Alpha Two Zero (1990). A dramatisation of the book was later commissioned starring Sean Bean as Clunge, and received several BOFDR nominations. Since, Clunge has gone from strength to strength with a string of action novels to his name. His work Zulu 1000 has been criticised by some as historical revisionism gone mad, describing as it does the real story behind the SAS's victory at Rorke's Drift in 1879.
His latest project has been controversially ghost writing for Arthur 'Beano' Batchelor and Faye Turney in the wake of the Iranian naval hostage drama. All parties have recieved much criticism, but the fact remains that Clunge, as one of the UK's most talented authors, managed to knock out two bestselling books in one week!
Today
Today, Clunge lives in a bleak windswept farmhouse in the wilds of the East Anglian Fens with his ex-Miss Belize wife Chantelle and long suffering dogs Bugsy and Bobo. Still an author, Clunge spends much of the year away on special advisor tasks as far afield as Luton, Leicester and Bradford.
An enthusiastic speaker, Clunge is ever popular at 49 Para's annual reunions and is proud of his association with the elite unit's old and bold. Clunge is also a proficient player of both bagpipes and harmonica - but not at the same time.
Rumours that he has started a slightly risqué Security Company surfaced recently when an account appeared on Twitter entitled 'Clunge Security' [1]. However, as they seem to have forgotten to add open contact details of any kind (perhaps Cyril extending his SF skills slightly too far into civvy life?) it could be some time before this is confirmed.
Works
Fiction
Non-Fiction
Testemonials
"A fine fellow and a giant amongst midgets." - Sir John Walters
"Compelling reading." - David Irving
"That cnut owes me fifty quid!" - Andy McNab
"Unbelievable!" - Times Literary Review
"It's staggering that this stuff even gets published." - The Grauniad
"Reading Clunge is a humbling experience." - Chris Ryan