Craig Colclough
Jump to navigation
Jump to search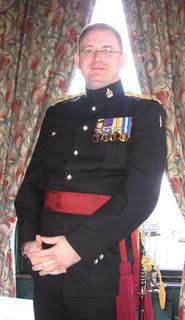 Craig Colclough
A short man once said 'Make the lie big, make it simple, keep saying it, and eventually they will believe it' and this was a philosophy that Craig Colclough really took to heart.
'Major' Craig Colclough is a thirty-something Tornado flying, polar-exploring Prague socialite who has also found time to qualify as a Doctor. His previous adventures included Walking to the North Pole to observe the stunning Northern Lights, in his charity walk 'Chasing the Aurora'.
Personal Life
Like the good soldier, Craig's personal life is shrouded in some mystery, however, he does not shy away from addressing the darker areas of his past. One evening, sitting with a group of friends in a Prague bar, shut away from the beating rain outside, after landing his Tornado fighter jet at Prague Airport after a bombing sortie had been cancelled, the smell of Cognac and Gaulloise thick in the air, a misty eyed, Craig told those present how his doctor wife Sophie was killed in a car crash when she was pregnant with his child and how he had found love in the arms of a young Czech girl called 'Sylvie'. Oh so naughty!
Craig the Doctor
Names have been changed to protect the gullible:
He was (somehow) accepted as the RMO at 36 (Eastern) Signal Regiment (V) based at Ilford, where he performed medicals on soldiers and recruits, provided medical cover for an exercise in Thetford Forest (where a pregnant soldier actually fell ill after he'd cleared her to train) with a weapon he was untrained and uninsured on. And all this with no Commission, and no medical training whatsoever, except what he'd read on the internet and in books from Amazon. He was even offered a job at a TA field hospital in Northern Ireland as his work was taking him to Dublin... which he was binned from for lying on his CV and escorted from the building of the mortgage firm where he'd been hired to be in charge of Mortgage Risk.
The Truth Will Out
Some things in life are certain. Your porkies will always find you. Irrespective of what your wife says, she does check your phone, does go through your pockets and does look at your phone bills. And for our hero, that was his downfall. The truth as little more realistic but no less fantastic. Craig was not a top gun, Army Major, doctor or polar bear botherer.
He was, however, a thrice-married (and only once divorced) accountant. His trips to Prague were rumbled when the current Mrs Colclough found a wedding ring belonging to the current Mrs Colclough (a different current Mrs Colclough) three days after marrying Major Colclough, as well as letters addressed to our Top Gun from the current 'Mrs Colclough' (no, not that one, the other one).
Sadly, once the truth came out his employers and the current Mrs Colcloughs (three of them) decided to shoo him in the direction of the police, the details of which couldn't possibly be discussed... until the 8 page spread in your super soaraway Sunday Mail - and latterly the Daily Mail.
It transpires that Colclough's military service amounted to a few weeks in the RAF before being booted out, and some time spent in the Royal Marines Reserve as a medical assistant. Whether he was in the RMR long enough to pass the AACC has yet to be determined, though he certainly wore the dagger on his (various) uniforms. Surprisingly for someone with such delusions, his Gulf Medal is genuine, as he deployed to the Gulf during Operation GRANBY. The rest of his medals, and the MiD on the Granby gong, however, are self-awarded. Crikey!
External Links