British War Medal
Jump to navigation
Jump to search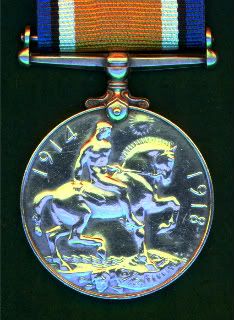 British War Medal
Instituted in 1919 and awarded to British & Imperial forces, this medal commemorates some of the most terrible battles ever fought, with astronomical amounts of casualties sustained under the most appalling conditions imaginable. Around 6,500,000 medals were issued - a truly astonishing number. It is by far the most prolific British medal ever minted.
Although this medal is usually associated with the Great War, eligibility was extended to cover operations up until 1920 in Russia (Forces Syren & Elope) - British & Commonwealth battalions being sent to assist in the (unsuccessful) fight against Bolshevism. Naval operations in the Baltic, Caspian, Black Sea and mine clearance also qualified.
The issue of clasps to this medal was originally intended, but with 79 submitted by the Army and 68 by the Royal Navy, it was deemed extremely costly due to the sheer number of medals issued, and therefore impractical. One can only speculate the impact on collecting & research these clasps would have had – had they been issued.
The naval clasps, however, were actually authorised but never issued. Miniatures (which were purchased privately), however, can sometimes be encountered with these naval clasps, some of which are: Narrow Seas 1914, Narrow Seas 1915, Narrow Seas 1916, Narrow Seas 1917, Narrow Seas 1918, North Sea 1915, North Sea 1916, North Sea 1917, North Sea 1918, Heligoland 28 Aug 14, Falkland Islands 8 Dec 14, Konigsberg July 15, Mediterranean 1915, Dogger Bank 24 Jan 15, Jutland 31 May 16, Belgian Coast, Zeebrugge. Ostend, Dardanelles, Eastern Baltic 1918-19, Baltic 1918, Gallipoli, German East Africa and Submarines.
This medal was also issued in bronze to native levies and Chinese & Maltese labourers, 110,000 being awarded.