Barry Simkins
Jump to navigation
Jump to search
| | |
| --- | --- |
| | THIS ARTICLE CONTAINS FACTS ABOUT WALTS AND MUST BE HANDLED ACCORDINGLY! |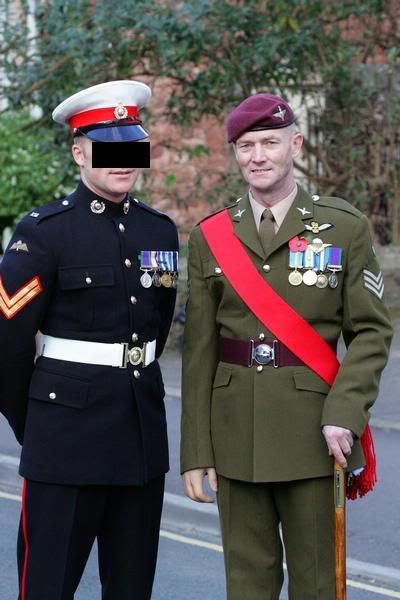 Simkins & friend
Simkins was infamous for being the one-armed Walt who big timed it as a para who lost his limb during the Falklands War.
This sad masquerade went on for over a dozen years apparently, before Simkins made the fatal error of having his picture taken.
The image was captured for posterity at a remembrance do, and Simkins even had the audacity to have it taken alongside a somewhat bemused Booty full screw. Whilst the Royal was the genuine article, Simkins was definitely not.
Festooned in badges and medals that he'd purchased, Simkins used to turn up at RBL events and swan about with the real veterans dressed as a Sergeant in No.2s. It was an absolute miracle he managed to get away with it as long as he did, considering his scant disregard for dress regulations. This was quite odd, as Simkins had actually (and surprisingly) served for seventeen years in the Royal Engineers.
After his image was captured, it almost instantaneously appeared on the Internet - ARRSE in particular - where Simkins was torn to shreds in fine fashion. Once the word was on the streets, Simkins' days as a faux para were numbered. After numerous threats from various quarters, Simkins came clean and apologised - some would say to his credit. What follows is the snivelling shit's 'please don't kill me' diatribe... complete with spelling errors!
"To all ex and serving Airborne,
No doubt my name will bring some distain to most of you people, I dont want to give you a long drawn out boring explanation, just a few facts. First and foremost, I sincerely apologise for pertaining to be part of the parachute regiment and for the lies I told. I told a story 12 years ago to a lady in spain and low and behold that lady became my wife. I never did tell her the truth and as the years went on so did the story. I have explained in detail to most of the people and intensly to Jock Love. I was very stupid and wrong for what I did, and I am deeply ashamed f myself. I upset and hurt a lot of people, I now realise this had to come to an end. I am not looking for any sympathy because i know I dont deserve it, and every word that has been said about me is deserved. But I feel that I do owe you all an apology, I cannot turn back the clock, my God I wish I could, I can only go on and warn any other wannabees out there that it isnt worth it, and if you tell a story to impress afemale, leave it were it belongs. Back in the bar. Once again, I sincerly appologise to you all.
Barry Simkins."
The Western Daily Press wrote:
SHAME OF FAKE PARA
09:30 - 25 April 2006
An embattled kitchen fitter, who for more than a decade falsely claimed he had been a heroic Paratrooper, has apologised and asked for a truce with furious ex-servicemen. Red-faced Romeo Barry Simkins, who had served 17 years as a Lance Corporal in the Royal Engineers, lied about his exploits with the Paras 13 years ago, when chatting up his now partner Lorna Oldfield, in a Spanish bar.
With the yarn spun back in his home town of Minehead in Somerset, he went on to keep up the pretence with friends and family - even members of the town's branch of the Royal British Legion, of which he was chairman until standing down six years ago.
Mr Simkins wears a prosthetic right hand and had claimed to have lost it while serving in the Falklands conflict. In fact he suffered the injury falling through a window.
But the scam began to unravel spectacularly when he bought a Para uniform and badges to wear to a parade in the town commemorating the 60th anniversary of the Battle of Arnhem, in 2004. He posted pictures of the day on an ex-services website and sharp-eyed former Paras noticed that some of the details of his uniform did not add up. Exposed as a fraud, he has been bombarded with chilling death threats to him and his family. Even a heart-felt apology posted on the same site has not stopped the tide of vitriol.
Yesterday a distraught Mr Simkins, who was airborne trained within the Royal Engineers and a member of its freefall parachute team, said he hopes former soldiers can eventually forgive him for what he freely admits was a terrible mistake.
"It is something I truly regret and it just won't go away, " he said. "It has really upset my family and I can only say sorry.
"I did not go around shouting that I was a Para and I only ever wore the uniform once.
On my records when I joined the Legion it says Royal Engineer, but people thought I was a Para and I admit on the odd occasion when people brought it up I didn't deny it, or put people right. People are seeing the picture on the net and think I'm doing it again, but I only ever wore it once. All this has made me look like the most evil person there could be." Lorna, mother of Barry's four-year-old daughter, is firmly standing by her man. She is considering marrying him to demonstrate her support.
"It was something he said to impress me the first time we met, it's the sort of thing men do to impress women, " she said. "It all spiralled out of that really. The subject probably only came up half a dozen times since we had been together and he would say he didn't want to talk about it.
"I don't think it's that big a deal. It was a mistake and he realises that. He is devastated and thinks it will overshadow his 17 years of service - which he is very proud of. I just wish everybody knew what he is really like. He really is a lovely man and feels absolutely terrible about it." "I was very stupid and wrong for what I did, and I am deeply ashamed of myself, " Mr Simkins says in his internet apology. "I cannot turn back the clock, my God I wish I could.
"I can only go on to warn others that it isn't worth it. And if you tell a story to impress a female, leave it where it belongs - back in the bar. " John Prior, Somerset county secretary of the British Legion, said: "He has had long service with the Royal Engineers to be proud of and there is no need to be glamorous

More here: Somerset Gazette