Atlantic Star
Jump to navigation
Jump to search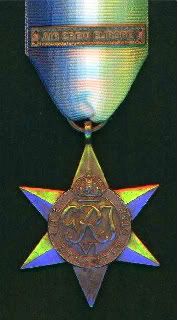 Atlantic Star
Awarded to British, Commonwealth & Merchant naval personnel; the Atlantic Star was also issued to RAF & Commonwealth air & groundcrew and Army gunners employed afloat on merchant vessels, catapult & Q-Ships. Aircrew eligibility was 2 months, whereas service afloat was for 6 months between 3 September 1939 & 8 May 1945.
Personnel must have already qualified for the 1939-45 Star to be eligible for this medal - except Merchant Navy personnel who served within the last 6 months of the war in Europe, who did not receive the other star. Holders of the Atlantic Star who were also entitled to the Aircrew Europe or France & Germany Stars were issued respective clasps for wear on the ribbon. The award of clasps is denoted by a silver rosette when the ribbon alone is worn.
This medal represents some of the worst conditions experienced by servicemen. Whether it be the long, lonely patrols of Coastal Command aircraft high above the grey waters of the ocean, the freezing conditions of the Russian convoys to Murmansk & Archangel, or the gale-lashed decks in the South Atlantic, under constant U-Boat threat; this medal truly represents hardship.