Royal Regiment of Artillery
Jump to navigation
Jump to search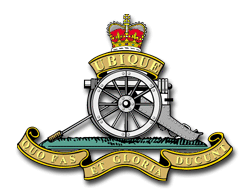 The Royal Regiment Of Artillery
This 'appened in a battle to a batt'ry of the corps
Which is first among the women an' amazin' first in war

"Artillery, the essence of military power", so said Stalin. Napoleon put it differently, "It is with the guns", he said, "that war is made."
But the fact is that if you get more than three or four Gunner officers together at any one time, there'll be blood on the carpet as they claw, scratch and bite at each other to improve their promotion chances. Paradoxically, Gunners also have a widespread and mostly deserved reputation throughout the Army for being penis mutilatingly boring. Go figure.
Never, never ever engage a Gunner in conversation about the lanyard worn on their uniform. No, really. Trust me on this. Not only will the tale be long and tedious but some joker from another capbadge will feel obliged to chip in with a scurrilous version of same tale. Before you know it there's broken glass and teeth all over the place.
Also includes Air Defence regiments aka (Cloudpunchers) populated by Young Officers fond of telling girls in bars that their job is "to shoot down anything they can put up against us, Samantha", only to be themselves shot down by one of their Nos 1 rolling up and informing Samantha that that's his job - Rodney here just drives around the countryside with lumicolour pens and some stickback plastic. Damn you Bdr B***y.
An organisation which strikes fear into every heart, friend and enemy alike. The bad guys get large chunks of metal raining down on them from miles away, but lets face it, dropping a few short is not entirely unknown to the brave lads and lasses of the Royal Artillery. But even more frightening is the visible aura of tedium which accompanies Gunner officers everywhere. Once they hit the rank of Major they are injected with a special hormone which turns them into doctrine-spouting, jargon-yammering bores. Let's face it, it can only have been a Gunner who invented the meaningless new buzzword Non-Kinetic Strike FFS, or started all that shit about referring to artillery support as Fires.
And then there is the, for those of us that were there, the unforgettable moment when a certain high-flying CO on dining-out gave away all the redundancy secrets. Oh, how C-in-C BAOR enjoyed that lunchtime chat the following day. Years of training the wife for better things - all gone for the sake of a G&T. Car crash TV at its best.
Major Units
AS 90 equipped Field Regiments
MLRS equipped Field Regiments
Air Defence Regiments
Surveillance and Target Acquisition Regiments
Light Gun equipped Field Regiments
- 7 (Sphinx) Commando Battery RA - RM Condor, Arbroath.
- 148 (Meiktila) Commando Forward Observation Battery RA - RM Poole
Minor Units
Royal School of Artillery Support & Training Regiment.
CVHQ RA
CVHQ RA, based at Woolwich, comprises two sub-units:
External Links