Karle Halliday
Jump to navigation
Jump to search
| | |
| --- | --- |
| | THIS ARTICLE CONTAINS FACTS ABOUT WALTS AND MUST BE HANDLED ACCORDINGLY! |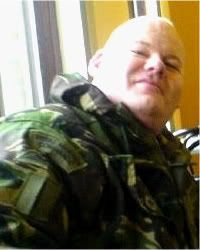 Karle Halliday
Who He?
Also known as Karle Daine, Karle Daine-Westmacott and Carlos Gotti. Fraud, bullshitter and violent mother-drubber. Claims: Military Medal, Queen's Gallantry Medal, Parachute Regiment, Royal Marines, SAS, Territorial Army - just about everything including the ACC. Nicked by plod and known to the MoD as in Int Nuisance. Best avoided. Known haunts: Sheffield, Stockport, Marple and the Northampton area.
Karle Halliday first came to attention of ARRSE in February of 2009 using the name Carlos Gotti. ARRSEr Panda Plodder was contacted by a friend who was concerned about a fund raising group she had been approached to join called 'Team Daine' - which was being run by Halliday. The friend was baffled by Halliday's many outlandish claims including being a Para and a Marine (at the same time), doing 'black ops' (and talking about them in detail), being an ATC instructor and HALO jumping.
In his own words:
i'm currently stationed in west yorkshire training recruits till feb then its back to the HEREFORD where i'm based. yep freefalling or HAHO (oxgen) and HALO is fun, well i can tell you i've jumped with a disabled person in tandom from 12,000ft, it was fun. i'm part of air troop and we are busy all the time
Of consequence Halliday/Daine soon flagged up on on ARRSE's (sadly now defunct) magnum opus walt thread and cursory web searches revealed he'd been on all manner of forums claiming this, that and quite a bit of the other. One minute he was in the Royal Marines - hinting very strongly at being in the SBS, and the next he was a reservist. He claimed to have both an MM and a QGM and (this is the worst bit) to be the son of an SAS officer killed in Northern Ireland - even to the point of adopting the deceased's name (Karle Daine-Westmacott).
It transpired he was all over the net like a rash with increasingly inconsistent claims. Something had to be done. PMs flashed back and forth and he dropped off the ARRSE radar temporarily whist questions were asked behind the scenes. The all clear was duly given and now he's back under the spotlight... permanently.
Early Beginnings
Karle Halliday was born on 14th July 1971 in South Yorkshire, he first came to attention of the local press (Rotherham Star) on the 21st November 1995 [1] following his arrest and placing on bail for assaulting his disabled mother, Evelyn Daine, who was aged 58 at the time. Halliday who was working in a factory narrowly escaped being sent to prison after his mother pleaded with prosecutors to let him back to her home in East Dene, Rotherham as he was her 'carer'. The Crown Prosecution Service then decided to drop all charges. [Thanks mummy!]
'Contact! Wait Out!'
From investigations by the ARRSE Walt Finder team, reliable information was forthcoming that Halliday first came to the attention of the British Army in the mid '90s when he attempted to join a Territorial Army unit of the Duke of Wellington's Regiment. Halliday made his first attempt at walting by claiming previous service in the Royal Marines - which was immediately sussed out by the unit's Permanent Staff. Halliday had broke a cardinal rule of walting: do not commit anything to official paperwork about your walting activities - particularly as the MoD has a linked personnel records database of every Tom, Jack and erk that has served in recent times.
However other information has come to light. Halliday produced some documents - supposedly from the records office in Glasgow. It must be pointed out that thses are not your normal official documents that prove service in the TA and - looking closely at them - they do appear to have been doctored.
The records office document which cannot be confirmed as genuine says he joined the Paras on 24/09/89 and left on 12/12/90. However there are few facts we should consider.
Recruits to the TA get their Service Number issued within weeks of walking into a TA Centre, they will have to take an Oath of Allegiance. The issuing of a number is primarily an administrative one so that the recruit can be issued with an ID card and uniform. However, they are not a trained soldier until they pass their Recruits Course. In the early 1990s the British Army was actually struggling to get TA recruits on these courses as they were booked solid, so it could take a year for the recruit to get to Basic Training phase on a Recruits Course. Until they pass that they would have been known as a 'NFQ'. If they didn't pass they would then be required to leave, documented as Services No Longer Required. In Halliday's case he is claiming to be a member of the Paras, which can actually take longer than mainstream TA units. In 1992 a 10 PARA recruit was expected to badged and winged after 14 months if they were lucky not to suffer any injuries. So it seems that Halliday possibly never made Trained Soldier. The NFQ in the Paras is referred to as a 'young crow'.
Documents seen by the Police suggest that Halliday was kicked out the TA as one document said 'Services No Longer Required' - and this was at a time when the TA couldn't get enough people through the doors!
Halliday claims that on 10/08/91 he joined what was the Royal Army Ordnance Corps. Again, the only evidence of this is what appears to be the doctored document from the records office, which we must point out is not a usual way to prove service. The really curious thing is that he made Lance Corporal in just 9 months. As has been pointed out in Point 1, it would have taken him at least a year if he was lucky to get to Trained Soldier level then another year to do Trade Training. Promotion within the TA hinges on Trade Training, if you don't get the grades then you can't be considered for promotion, so to become a Lance Corporal in 9 months is a flight of fancy.
The Parachute Regiment Association membership card. This itself does not prove that any holder of such card has been badged and gained Para wings. Membership forms for regimental associations are often given to recruits when they get their Service Number.
Other Points to Bear in Mind
The team that worked on this case has yet to find anyone who knows him from the TA. Why are there no squad photographs, no Pass Out/Off Certificate, or proper photos of the individual on exercise? Photos taken in a cafe whilst wearing DPM with a Green Beret and Royal Marines badge prove nothing, and this was found to be the case as he has lied extensively about serving in the Royal Marines. It was all made up. All photographs appear to be recent or copied (illegally) from Defence Images. In one instance a photo of an Irish Guards sniper during the invasion of Basra was used by Halliday who claimed it was himself. Word actually got back to the Guardsman who was actually in the photograph, and we have heard he was fuming. [Lesson: Never piss off a Guardsman particularly a Mick, it will come back to haunt you]
Web of Intrigue
Most of Halliday's walting activities nowadays seem to be limited to bullshitting on social networking sites such as Facebook or trying to organise teams for 'charity' walks. Everyone who gets involved is told to make up a service identity if they don't have one.
Halliday began building an Internet persona of a hero; he made bogus entries on Friends Reunited that he was a RM instructor based at Poole in Dorset, then on the Service Pals website he made requests for bogus made up people who had known him in service life to contact him. He also claimed he was at Deepcut Barracks serving as a Slop Jockey cum EOD specialist at about the time he was being arrested by South Yorkshire Police.
Friends Reunited
Location: POOLE, Dorset, England Martial status: In a serious relationship Job: Working, ROYAL MARINES, TRAINING INSTRUCTOR 1982 - 1989 Clifton School
Missing You (Already)
Seeking: Katrina Zalsluik Location: Mid Wales : No Town Information Message: hello can someone help me track an old forces friend down she served with the REME (V) in the 90s i know her father was a former officer. if you read this katrina its karle we trained at bordon for a while, or if anyone knows the whereabouts of katrina please let me know would like t contact her again Posted By: Karle Westmacott on Saturday 23 June 2007
Seeking: Diana Lowe Location: Greater London : No Town Information Message: hello i'm looking for an old friend ive lost contact with would like to get in contact with diana lowe had a sister called sarah lowe last known location was denston uttoxeter staffs, last heard fro was when i came back from op desertstorm if anyone can help locating my old friend i would like to hear from diana or them. Posted By: Karle Westmacott on Saturday 23 June 2007
Service Pals
Fullname: KARLE DAINE Service: British Army Service Status: Territorial Birthday: 14 Jul 1971 (Age: 37) Homepage: www. the parachut-regiment .com
KARLE DAINE remeber all the fallen regulars and reserve forces who have served and earn't their CSM,my father was ambushed with his partner and killed in northern Ireland i've served there to and lost a few mates but i remeber everybody.
KARLE DAINE FROM EX AT RLC i was stationed at princess royal bks formerly known as BLACKDOWN BKS from 1991-92 i since left and returned to my regular btn with the parachute regiment, i left the rgular army in 1999 and went reserve para regimnet. in my time i saw two planned suicides one with a young guardsman who was doing stores training becouse of his religous back ground, they made him take pain killers and washed down with vodka, this was with BCOY and the other was mental torture of a female recruit from the same company who was sexually assualted.
KARLE DAINE I SERVED AT DEEPCUT FROM 1991 I WAS A CPL WITH FORMLY KNOWN AS EOD UNITS AND I SAW BRUTALITY AND WITNESSD ASSUALTS BUT THINK ABOUT IT, NOBODY CAN SHOOT THEMSELVES IN THE HEAD TWICE OR A FIVE ROUND GROUPING INTO THE UPPER THORAX THEMSELVES. YES I FEEL SORRY FOR THE PRIVATES AND FAMILY, I'M GLAD I LEFT AND WENT AND RE BADGED BACK TO THE PARACHUTE REGIMENT IN 1999. I SAW TWO PLANNED SO CALLED SUICIDES WITH DELHI PLT AND B COY BASED AT BLACKDOWN BKS NOW PRINCESS ROYAL BKS, ONE WAS A 19 YR GRENDADIER GURDSMEN ON STORES TRAINING AND ONE BEING THREATE
Facebook
As Karle Westmacott
OK ROYAL MARINES RESERVIST, YES I GOT MY GREEN LID AND HAVE BEEN CABBAGED AND CROAKERFIED FOR ALONG TIME SLIGHTLY CRAZY LOL. IN JULY 2007 TEAM DAINE FUNDRAISINING GROUP WAS FORMED TO RAISE MONIES AFTER THE SAD DEATH OF MY MOTHER, IN MAY 2008 WITHOUT ANY SPONSORS FROM COMPANIES THE TEAM MANAGED TO RAISE £5500 FOR THE BHF. THIS PAGE AS BEEN SET UP FOR THE TEAM TO RAISE FUNDS FOR HELP FOR HEROES AND JOE'S BUNGALOW. WITHOUT YOUR HELP OUR HEROES COME HOME TO NOTHING WITH NO SUPPORT, SEVERAL OF OUR TEAM INCLUDING MYSELF HAVE RECIEVED TREATMENT AT DMRC WAENDEL WEEKEND LAST YEAR DUE TO THE HUMID CONDITIONS TEAM DAINE STARTED OUT AT 5000 PLACE UTILSING FULL FIGHTING ORDER (WEBBING AND BERGENS) WITHIN 3HR 30MINS WE CAME IN JOINT 2ND PLACE. TODATE NO COMPANIES HAVE COME FORWARD TO HELP WITH SPONSORSHIP INCLUDING MAJOR FOOTBALL CLUBS, WE ARE A SELF SUPPORTING TEAM, TAKING TIME OUT TO TRAIN IN DERBYSHIRE TWICE A MONTH . WITH YOUR HELP WE CAN HELP OUR BRAVE HEROES. PLEASE THINK HOW MUCH DOES A PINT OF BEER COST IN A NIGHTCLUB NOW? THINK ABOUT OUR SERVICE PERSONNEL SUFFERING WHEN THEY COME BACK WITH PTSD OR INJURIES IF YOU WOULD LIKE TO DONATE PLEASE CONTACT ME AT THE BELOW EMAIL ADDRESS
this is an ongoing event held each year please could you help us to help them thank you for taking time to visiting our site if any cadet forces who feel upto taking part and help our service personnel please contact myself and i wil send you the paperwork.
[Clearly Halliday is no fan of punctuation and correct grammar.]
As Carlos Gotti
hi everyone i'm carlos a former regular Royal Marines Commando (45) and now Royal Marines Reserve.Team Daine was founded in lae July 2007 after the sad death of my late mothr we raised £5550 for the BHF in May 08 by walking 60 miles ith full marines fiighting order cross terrain. This year w aim to raise more for one special Royal Marine Joe Townsend, Joe needs specialist equipment and home furnishings including electrical goods ready for whenhe moves in. Team daine are a small fund raising group of close family friends and fellow reserve personnel whom have been injured in the line of combat and ave been lucky with treatment at DMRC and selly oak. our aims are set out below 1) 8-11th may 2009 wellingborough www.waendeweekend.com to yomp 30miles per day utilising full royal marines equipment over a weekend 2) 17-22nd july 2009 Nijmegen (HOLLAND) walking the same distance over 4 days we are lookng for pesonal sponsorship please help us to help joe
Stupidity beyond belief
As can be seen from above Halliday has an unhealthy fixation with the Deepcut Inquiry plus when you consider his activities of writing malicious letters to various Army units about serving Soldiers who have had the misfortune to come in contact with Halliday, something is not quite right with the man.
Halliday - with his claims about what happened at Deepcut - are causing relatives/families of the deceased great pain and anguish and only a complete bastard would do something so malicious just to get Kudos. Likewise it is hardly surprising that he has upset and caused offence to the military community at large (both serving and ex) with his claims about knowing and serving with deceased soldiers. Again how low can one go just to get kudos from someone's death?
US Pathfinders
US Pathfinders Newsletter. July 2001:
A special welcome to our first British Pathfinder, Karle Daine. Karle is currently serving as a Sergeant on active duty with the British Pathfinder Platoon. He has served in Northern Ireland, Gulf War, Balkans, Cyprus, Sierra Leone, Kosovo. Pathfinders as far the British Army goes is part of the Parachute Regiment.
[Oh no he isn't. And oh no he hasn't!]
The Man of Many Names
Karle likes multiple IDs. He says this is because his father's killers are now out (of jail) and he has to change identity. Karle Halliday has been identified as using the following names:
Karle Daine
Karle Daine-Westmacott
Karle Westmacott
Carlos Vincenzo Gotti
Bogus Service History
Halliday has claimed service in the following units:
Royal Marines (45 Cdo - 20 years, using the Service Numbers PO984271C).
2 PARA (2+ years)
Pathfinder Platoon (PARA)
SBS
'Pagoda Sqn' (SAS) [It was actually called Pagoda Troop and hasn't been called this since the Dark Ages.]
Air Troop (SAS)
Sheffield UOTC (Either an Instructor or MT Section depending who he is talking to.)
RMR Merseyside
Defence School of Catering - EOD Unit [It's those exploding sausages!]
When all this was added up it was reckoned that Halliday took the Queen's shilling at about age 10 – which is not bad for someone who has never served one day in HM Forces.
Bogus Gallantry Award Claims
Halliday claims to have been awarded the Military Medal and the Queen's Gallantry Medal - the latter rescuing an injured Marine under gunfire in Bosnia. The only problem is Halliday has committed Sin No.2 of walting: gallantry awards are listed in the London Gazette and there is no record of him at all. [Quelle surprise!]
Other Claims
Halliday also states he has HEMS and a BA in Trauma Medicine which he said he'd got from 'Sheffield Training Hospital'. This is not a correct name for any NHS establishment in Sheffield.
He also claims to have served alongside the Security Service (MI5) and METPOL's siege containment unit SCD11(2) on various ops including the Delgarno Gardens siege. This latter claim was something of a fuck up on Halliday's part as one of the people he was gobbing off to actually was a copper and happened to have been involved with that specific operation… and knew nearly all the guys on the team. Oops!
To back up his claims Halliday has befriended service personnel with a view of extracting information that would be valuable to back up his bogus service history. This is how he obtained false service numbers for Army and Royal Marines. However, if the person being asked for information did not provide what he wanted, Halliday would send letters to that person's unit stating they had admitted to ill treating and abusing prisoners in Iraq and Afghanistan. He even fired off a complaint to the CGS. [What a twat. Halliday that is… not the CGS.]
Westmacott & the PIRA connection
Halliday - who is obviously bonkers - invented a story that he was the son of a SAS officer who was killed in action against PIRA in Northern Ireland and had been posthumously awarded the Military Cross. Now one of the things that struck the ARRSE Investigation Team was not only Halliday's poor grasp of English but also his terrible mathematical skills.
Halliday claimed that Captain Richard Westmacott (who was 28 years old when he died) was his father. This despite the fact that Captain Westmacott's wife was expecting their first child at the time of his death (Halliday was 9 at the time). Of course all this is at odds with Halliday's claim that he is of Maori/Italian descent. [That'll be the fat, bald, potato-headed mong-like variety then?]
His story gets even more bizarre as he claims that his father and mother are buried at Hereford and that he was born on the steps of the guardhouse of Stirling Lines! A bit different to the run down estate in Rotherham where he is actually from!
A Little Knowledge (Goes a Long Way)
Halliday had gained his limited - almost schoolboy - limited knowledge of HM Forces from brief encounters with the TA and the ARRSE investigation discovered that he had been identified as a member of civilian staff of a Marine Cadets Detachment of the Sheffield Sea Cadets.
This was achieved in two ways: a request in the ACF forum on ARRSE (to see if anybody recognised him) brought forth a positive identification of Halliday when the Sea Cadets attended an Armed Forces Careers Evening. Halliday was unusually quiet probably because one of the AFCIOs was a badged Royal Marine.
Further investigation of websites frequented by Halliday included the Bebo social networking site. Here Halliday was in contact with teenagers - in particular one young lady who was a member of 901 Troop, Marine Cadet Detachment, TS Fearless (Ipswich Sea Cadets) with a message that revealed that Halliday knew of a Civilian Instructor with said unit.
What was worrying was Halliday's wish for teenagers members of groups such as the Army Cadet Force (ACF) to be involved with his 'fund raising' activities. This rang alarm bells - particularly with his many name changes. The Commandant of the Girls' Venture Corps Air Cadets was particularly concerned as he had been approaching teenage girls to join his fund raising group.
There have been instances on the Internet where awe-struck teenagers, who have been sucked into Halliday's fantasy world, have changed their name to Westmacott or Gotti in honour of Halliday, a situation no doubt compounded by his genetically inherited swarthy Polynesian/Mediterranean looks.
Dear ARRSE
On the 19th March 2009, Karle received something of a surprise:
I returned home after an afternoon out to an email from *******. He copied in the e-mail a "history" of me that had been placed on the internet site www.arrse.co.uk. I went to this site and found a thread about Walts, and found this exact post and replies about me. They have posted my current and former names. Only 3 months ago my partner and I were advised to completely change our names due to a security risk, now my new name has been plastered all over the internet (The funny thing being he announced his name change on Facebook including the Help 4 Heroes supporters page).
I have been in contact with the owner/administrator of arrse.co.uk, whom refuses to take down the slanderous comments made about me. As you can see, not only are they slandering me, but also bringing my late parents into this. The photos they have put on have been illegally taken from my Facebook account. I have now taken all my pictures off my Facebook account to try and minimise the damage.
Needless to say, the Grown Ups told him to 'go away'. [Lesson: STOP BEING A TWAT!]
It's clear he hasn't forgotten ARRSE and holds us all in deep regard so on 3/7/14 he got biger boys i.e. Google to ask for his details to be 'forgotten' http://www.arrse.co.uk/community/threads/right-to-be-forgotten.215911/#post-5844083 Even bigger boys told him to do one, shame that.
You're Nicked (Again)
Following a complaint from the Royal Marines, Halliday was arrested by Stockport CID. They could (should) have charged him for offences under the Uniforms Act 1894 , as he had turned up at charity events wearing DPM with RM rockers and a 3 Brigade TRF and a green commando beret with RM badge. The investigation found that although he had been far from truthful about the amount of funds raised, no charities (so far) had been defrauded. He was, however, told in no uncertain terms that if he appeared on the radar of RMR Merseyside again they would prosecute. Halliday seems to have taken this as that he may no longer play at being a Royal Marine. Never mind. There's always the Paras, the SAS...
The Future
So what motivates Halliday? He is without doubt a serial liar – and not a particularly skilled one at that. Whilst his flights of fantasy shouldn't cause too many problems to anyone with half a brain, he has convinced the gullible, the naïve and those with little or any knowledge of the Armed Forces otherwise. His 'fund raising' doesn't hold much water either, and whilst ARRSEpedia would never accuse anyone of being a paedophile - apart from genuine paedophiles – it must be said that a fat, balding 38 year old hanging around youngsters and cadets and telling them all manner of porkies - and posting more lies on a kids' networking site (Bebo), plus paying for a pair of boots for a young lady who is in no way related to him - sounds pretty much like grooming and doesn't exactly send out positive signals and engender confidence... DOES IT?
Just recently he has already appeared on several sites calling himself 'Old Para' or 'Crazy Para'. He certainly got that last bit right.
His latest effort seems to be with an outfit called SOBAFF who have a website which has copied pages from another fund-raising group called Honour our Troops, who probably know nothing about what Halliday/Gotti is up to. No doubt we will be hearing more in following weeks.
LATEST****** HE HAS BEEN PARADING THE STREETS OF MANCHESTER POSING AS A MEDIC...FORCES TRAINED MEDIC, EX PARA, 25 YR SERVICE INCLUDING BOMB DISPOSAL, HALO AND EVERYTHING ABOVE.....THE BEST BIT... THIS IS WHILE VOLUNTEERING FOR A HOMELESS NOT FOR PROFIT SET UP IN MEMORY OF THE FOUNDERS BROTHER. He provided fake CRB, Medical certs, medical insurance, all his own equip, bragged of how he could raise thousands for the homeless all the while breeding his lies and bullshit. He accused non military of being AWOL privates, called ambulances for simple non emergencies, almost called the bomb squad because one of the guys left their sleeping bag on the ground. He has been 'treating' vulnerable adults.
The group were suspicious from the off so asked for all paperwork and credentials by the time this was produced they were even more aware of his bullshit but put it down to a liar not full blown fraudster, mother beater and fucker over of the British Army!! Seriously what a cock!!
HE IS RESIDING IN THE BRINNINGTON AREA OF STOCKPORT... SO BEWARE IF YOU LIVE LOCAL!
He is a 'friend' of the bikers, a member of every club you can think of and said of an event put on by the not for profit group.... 'I wont be providing security, I will be breaching my contract with my current employer stateside and I don't want to fluff off company I work for , they do a lot of Govt contracts get my drift! i'm busy on CQB killing house with afew of the guys that day then packing for my holidays' .... What absolute bullshit...he is full of shite!!
During another chat he also said...'im the Mira medic for the team actually we are all trained TCCC MEDICS (have tobe) but im AE (attack & explosives) , my dog is kennaled down in melton mowbray company im linked to have kennels in UK & five in states. the company I work for is based in virginia..... Vagina more like cos you are talking fanny mate!!
ALL THE TIME HE WAS PROMISING TO DO A CHARITY PARA JUMP....PLEASE HAVE YOU SEEN HOW OUTTA SHAPE HE IS? WE CALLED HIM THE SOLITARIAN COS HE LOOKS LIKE ONE!!
WE ALL VOLUNTEER FOR THIS GROUP HELPING THE HOMELESS AND ARE REALLY PISSED OFF THAT HE WAS ABLE TO GET AWAY WITH IT FOR SO LONG!! HE PROMISED HOMELESS GUYS MILITARY KIT AS IT IS THE BEST STUFF WHEN SLEEPING ROUGH!!
CARLOS GOTTI....OR WHATEVER YOUR NAME REALLY IS...I HOPE SOMEONE GOES AND PLASTERS YOUR SMUG BUTT UGLY SOLTARIAN FACE ALL OVER STOCKPORT AND GREATER MANCHESTER!! YOU'VE PISSED OFF ANOTHER TIGHT COMMUNITY NOW MATE!!
Greater Manchester he is on the prowl again!!
THIS IS HOW COCKY AND ARROGANT HE IS!! HE ASKED FOR THIS TO BE READ OUT TO ALL THE VOLUNTEERS AT THE SOUP RUN... I GOT A COPY VIA EMAIL (SECRETIVELY) NAMES REMOVED TO PROTECT INNOCENT PEOPLE!
 Hiya I've asked ###### to read this out too you , whilst this is being read out I am preparing my equipment for deployment overseas due to my employment I cannot inform you where this is.... BUT JUST LISTEN OUT FOR MASS RIOTS lmao!!! Hopefully I will be back within several weeks but I will need a cool down period so by August I will be fine and ready to hit the soup kitchen once again.....!

1# message to ###### continue to make the brews remember tea 2 and strong , you cheered me up no end carry on the good work .
2# ##### good luck with moving into your new Man Pad , when im back let me know what you need and I will see what I can do.
3# ##### we must organise a night out around the village get you dressed up in a tutu and combat boots!
4# To the girls behind the counter going to miss you lots you do a cracking job no more slacking and before you say it MEDICS DONT SLACK ...... we just have brain farts and wonder what kit we can purchase that's all!!!
5# ### & ####### keep up the good work plenty more blisters & sweaty cheese and onion feet to treat ..... I might have a few injuries for you lot to treat when I get back ........ !!!!!!!lol
6# ​ to the guys & girls who attend for several months (HE DID A FEW WEEKS) ive been honoured too have known you and chat with you all keep well and safe hpe to see you all again soon.
TO THE MOST IMPORTANT WOMEN ###### & ######

    I never got to know Craig & Mark with what you are doing is keeping there spirits alive you can feel a presence like they are watching over yourselves and the kitchen, its been an honour to have worked alongside yourselves , this opened my eyes to the vulnerability of the homeless , I cannot thank you both enough for this opportunity you gave me .  If anything happens to me I have instructed my solicitor to make provisions for Coffee 4 Craig so they can carry on for many years. (HOW FUCKING DARE HE SPEAK OF 2 HONORABLE MEN WHO BOTH DIED WITH MORE LOYALTY IN THEIR LITTLE FINGERS THAN HE HAS IN HIS WHOLE BODY, IT SICKENS ME TO THINK HE STILL WALKS THE STREET, HOW DARE HE EVER BREATHE THEIR NAMES!!)  

Thanks
Carlos aka Koala (SELF IMPORTANT LITTLE CUNT)
References
1: Newspaper article that appeared in the Rotherham Star 21.11.1995, accessed from Library records.
External Links