Italy Star
Jump to navigation
Jump to search
The printable version is no longer supported and may have rendering errors. Please update your browser bookmarks and please use the default browser print function instead.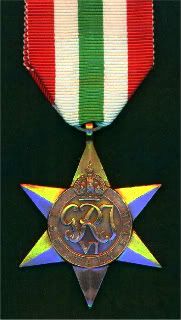 Italy Star
Awarded to British & Commonwealth forces for service on land between 11 June 1943 & 8 May 1945 in the following operational areas: Italy, Sicily, Sardinia, Elba, Corsica, Yugoslavia, Greece and the Aegean & Dodecanese islands.
From the landings at Salerno, the bloodbaths of Medicina & Monte Cassino, to the liberation of Rome, the award of this medal covers all these actions. It is not worn with any clasps.