Gordon Highlanders
Jump to navigation
Jump to search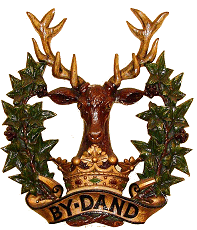 History
The Gordon Highlanders was one of the great names of Scotland's history, and one of the British Army's most celebrated regiments. It was the local regiment of the North East of Scotland, recruiting mainly from Aberdeenshire, Banffshire and Kincardineshire, an area which took great pride in the Regiment's record.
The Gordon Highlanders was raised in 1794 by the 4th Duke of Gordon, as a regiment of Highland Foot (infantry). Many of the original recruits were drawn from the Gordon estates, and the recruiting effort was assisted by the Duchess of Gordon,
who is said to have offered a kiss as an incentive to join up. Always known as the Gordon Highlanders, the Regiment was officially designated the 100th Regiment of Foot, becoming in 1798 the 92nd Regiment of Foot, the numbering with which it has since been associated.
The Gordons were originally brought into being during the French Revolutionary Wars. They saw action against the armies of France, first at Egmont-op-Zee in Holland in 1799, then in the Egypt expedition of 1801, and again in the long campaigns and many battles of the Peninsular War in Spain. The Regiment then played a prominent role in the final defeat of Napoleon at Quatre Bras and Waterloo in 1815.
As the nineteenth century progressed, the expansion of the British Empire saw the Gordons serve in far flung locations on the frontiers of India, in Egypt and the Sudan and in South Africa. Among many famous actions were the extraordinary feat of the march over 320 miles of Afghanistan's unforgiving terrain between Kabul and Kandahar, achieved in 23 days in 1880. Also, the stunning victory on the Heights of Dargai, on India's North West Frontier, in 1897.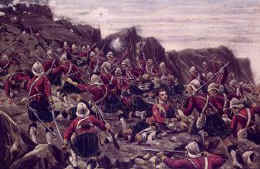 During the 1880's, the old 75th (Stirlingshire) Regiment, with its own record of war service in India, was incorporated into the Gordons, which had then established a permanent presence in Aberdeen. Meantime, the gradual development of local volunteer and militia units into the Territorial Army gave the Regiment a truly local character.
In the First World War some 50,000 Gordons served in the regular, territorial and service battalions. Of these, approximately 27,000 were killed or wounded. Among other great and terrible battles, all the fighting Gordon battalions saw action on the Somme.
In the Second World War, Gordon battalions served with the British Expeditionary Force in France in 1940, and in the Far East in 1942, where many became prisoners of war. Great success was achieved in the North Africa campaign, in Sicily and Italy, in the invasion of North West Europe followed by the long advance into Germany, and in the liberation of Burma.
In the years after 1945, the Regiment took part in peace-keeping and anti-terrorist operations in Malaya, Borneo, Cyprus, Germany and Northern Ireland, with detachments serving in the Gulf War and Bosnia. In 1994, the Regiment was amalgamated to become part of The Highlanders (Seaforth, Gordons and Camerons) - the new regiment of the north of Scotland.
The Gordon Highlanders was renowned as a courageous fighting regiment, but also enjoyed a reputation for good conduct and all round ability. This was based in a particular approach to soldiering, a professional attitude individually and collectively where steadiness and teamwork were as important as extraordinary courage, sustained by a healthy pride in the Regiment and its achievements. source Gordon Highlanders Museum
Battle Honours
Mysore, South Africa 18352, Tel-El-Kebir, Egypt 1882 '84, Nile 1884-5, Chitral, Tirah, Defence of Ladysmith, Paardeberg, South Africa, 1899-1902
The Great War [21 battalions]: Mons, Le Cateau, Retreat from Mons, Marne 1914 '18, Aisne 1914, La Bassee 1914, Messines 1914, Armentieres 1914, Ypres 1914 '15 '17, Langemarck 1914, Gheluvelt, Nonne Bosschen, Neuve Chapelle, Frezenberg, Bellewaarde, Aubers, Festubert 1915, Hooge 1915, Loos, Somme 1916, 18, Albert 1916 '18, Bazentin, Delville Wood, Pozieres, Guillemont, Flers-Courcelette, Le Transloy, Ancre 1916, Arras 1917 '18, Vimy 1917, Scarpe 1917 '18, Arleux, Bullecourt, Pilckem, Menin Road, Polygon Wood, Broodseinde, Poelcapelle, Passchendaele, Cambrai 1917 '18, St. Quentin, Bapaume 1918, Rosieres, Lys, Estaires, Hazebrouck, Bethune, Soissonnais-Ourcq, Tardenois, Hindenburg Line, Canal du Nord, Selle, Sambre, France and Flanders 1914-18, Piave, Vittorio Veneto, Italy 1917-18
The Second World War: Withdrawal to Escaut, Ypres-Comines Canal, Dunkirk 1940, Somme 1940, St. Valery-en-Caux, Odon, La Vie Crossing, Lower Maas, Venlo Pocket, Rhineland, Reichswald, Cleve, Goch, Rhine, North-West Europe 1940, '44-45, El Alamein, Advance on Tripoli, Mareth, Medjez Plain, North Africa 1942-43, Landing in Sicily, Sferro, Sicily 1943, Anzio, Rome, Italy 1944-45
Victora Cross awards
Lieutenant Richard Wadeson V.C
Colour Sergeant Cornelius Coghlan V.C
Lieutenant William Henry Dick-Cunyngham V.C
Private Edward Lawson V.C
Captain Ernest Beachcroft Beckwith Towse V.C
Captain Matthew Fontaine Maury Meiklejohn V.C
Lieutenant William Robertson V.C
Corporal John Frederick Mackay V.C
Captain William Eagleson Gordon V.C
Captain David Reginald Younger V.C pic
Captain James Anson Otho Brooke V.C graveMisc
Private Gordon Imlach McIntosh V.C
Lieutenant Allan Ebenezer Ker V.C
Private George Allan Mitchell V.C
For more info and citations [1]
Regimental tie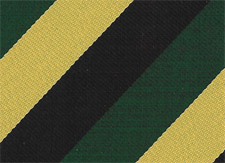 Miscellaneous
From the film Waterloo [2]

Observing the advance of the Gordon Highlanders
Napoleon Bonaparte: Has Wellington nothing to offer me but these Amazons?

Duke of Wellington: I like the cut of your men, Gordon.
Lord Gordon: Damn forward fellows with a bayonet, Wellington. Raised 'em from me own acres on a lemon a month. There's some there could call me more than colonel, eh?

Duke of Wellington: Picton; Ballen's brigade has broken. Kindly fill the gap; if you please.
General Sir Thomas Picton: Gordon, take your bastards forward. I'll bring up the rest of the brigade.
Lord Gordon: Don't hurry yourself, Pic. My lads will hold them; aye, 'til you come.
General Sir Thomas Picton: Get forward, damn your eyes!
Famous Gordons
External Links