Australian Commandos
Jump to navigation
Jump to search
Since 1941, the Australian military has raised a range of special forces and special operations units, most notably the 1st and 2nd Commando Regiments.
World War 2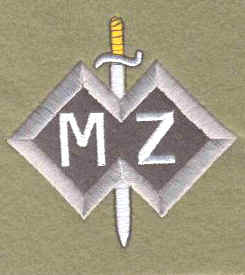 Logo of M and Z Special Units
M Special Unit
M Special Unit, was part of the Services Reconnaissance Department, a joint Australian/New Zealand and British military intelligence reconnaissance unit, which saw action against the Japanese during World War II. Formed in 1943, as a successor to the Coastwatchers and unlike its counterpart, Z Force which was involved in a number of notable direct-action commando-style raids, M Special Unit's role was more clandestine focusing mainly upon gathering intelligence on Japanese shipping and troop movements by sending small teams behind enemy lines via infiltration by sea, air or land. M Force operated primarily in New Guinea and the Solomon Islands between 1943–1945 and was disbanded at the end of the war.
Z Special Unit
Z Force or the Services Reconnaissance Department (SRD), was a joint Allied special forces unit formed during WW2 to operate behind Japanese lines in Southeast Asia. Predominantly Australian, Z Force was a specialist reconnaissance and sabotage unit that included British, Dutch, New Zealand, Timorese and Indonesians, predominantly operating on Borneo and the islands of the former Netherlands East Indies.
The unit carried out a total of 81 covert operations in the South West Pacific theatre, with parties inserted by parachute or submarine to provide intelligence and conduct guerrilla warfare. The best-known of these missions were Operation Jaywick and Operation Rimau, both of which involved raids on Japanese shipping in Singapore Harbour,the latter of which resulted in the deaths of twenty-three commandos either in action or by execution after capture.
Although the unit was disbanded after the war, many of the training techniques and operational procedures employed were later used during the formation of other similar Australian Army "special forces" units and they remain a classic example of how to conduct guerrilla operations to this day.
RAN Beach Commandos
Later during WW2, the Royal Australian Navy also formed a number of commando units. These units were used to go ashore with the first waves of major amphibious assaults, to mark out and sign post beaches and to carry out other naval tasks. These units were known as RAN Beach Commandos, and they took part in the Borneo campaign, being used in the landings at Tarakan, Balikpapan and Brunei and Labuan.
Present Day
1st Commando Regiment
Capbadge of the 1st Commando Regiment

The 1st Commando Regiment is based in Randwick, New South Wales. 1 Commando Company (1 Cdo Coy) is located in HMAS Penguin, Balmoral, NSW. 2 Commando Company (2 Cdo Coy) is located in the historic Fort Gellibrand at Williamstown, VIC. 301 Signal Squadron (301 Sig Sqn) has its headquarters at Randwick and elements of the squadron are located in Sydney and Melbourne with each Cdo Coy. 1st Commando Regiment is organised similarly to 2nd Commando Regiment (formerly, 4th Battalion the Royal Australian Regiment), which is a regular Commando unit also serving in SOCOMD. The commando companies are made up of a headquarters, three commando platoons, a reconnaissance platoon, a training platoon and integral combat service support elements. 1st Commando Regiment is twinned with the Royal Marines.
2nd Commando Regiment
Formerly 4 Battallion Royal Australian Regiment, the Holsworthy based 2nd Commando Regiment finally become a regiment of its own in 2009 and is considered one of the best units by foreign forces.
Capbadge of the 2nd Commando Regiment
Selection
To apply for entry into 2 Commando Regiment, the applicant must apply/hold Australian Citizenship, be fully and currently qualified up to 343-2 rifleman standard. Applicants will not be allowed to undertake the Commando Selection Training Course until they are qualified Infantrymen. Once the candidate has begun to undertake training, if they fail any part of the selection course they will be returned to their unit, or if from outside of RAInf, transferred to one of the battalions of the Royal Australian Regiment (provided Infantry Initial Employment Training has been completed). Reservists will return to their Reserve Units.
Special Forces Entry Test: SFET is usually conducted twice a year, candidates have to complete the following minimum standards over a 24 hour period (usually compacted into 6 hours): Run, Dodge, Jump (RDJ) test with webbing (7 kg) and weapon in 50 secs; 60 push ups in battle PT kit, less webbing and weapon; 100 sit ups (dressed as above); 10 chin ups (dressed as above); 2.4 km run in 11.00min (dressed as per RDJ); 2 min tread water and 400m swim in 18:00 (full Disruptive Pattern Combat Uniform); and a pack march, which the candidates must walk 15 km in 2hrs and 30min.
Commando Selection Training Course: On successful completion of the SFET candidates are panelled on the Commando Selection Training Course (CSTC), usually 5 weeks in length, conducted at SFTC (Special Forces Training Centre), Singleton. On successful completion the candidate will complete the following courses before being awarded their Green Beret. Candidates must pass each separate course to advance onto the next course.
   * Special Forces Roping
   * SF Helicopter Insertion and Extraction Techniques.(HIET)
   * SF Signals/Medics Course
   * SF Amphibious Operations
   * Cdo Vehicle Operator
   * Advanced Demolitions
   * Special Forces Parachute Operations
   * Close Quarter Fighting
   * ACQB (Advanced Close Quarter Battle)
   * Urban Operations
   * Special Forces Heavy Weapons
   * SF/Foreign Weapons
   * SF Breaching
   * Armed Response Protection Team Course.

Upon successful completion of all course soldiers are then posted into one of the Commando Companies. Further training is conducted at team and platoon level dependent on operations, which could include language, sniper, mortar, Shooting, HALO/HAPO or Advanced vehicle training, to name a few.
External Links